We're open (Wednesday through Saturday) for both dine-in and carry-out dinner!  We have a large outdoor seating area for those who prefer to be outside, as well as a spacious indoor dining room that allows for plenty of space between tables (and also features a state-of-the-art air purification system). We can't wait to serve you what we hope will be one of your best meals ever.  And for music lovers, Jazz pianist Steve Christofferson plays piano every other Friday!
Thanks for stopping by our website.  Hope to see you soon!
Lisa Radcliffe
Chef/Owner of Bacari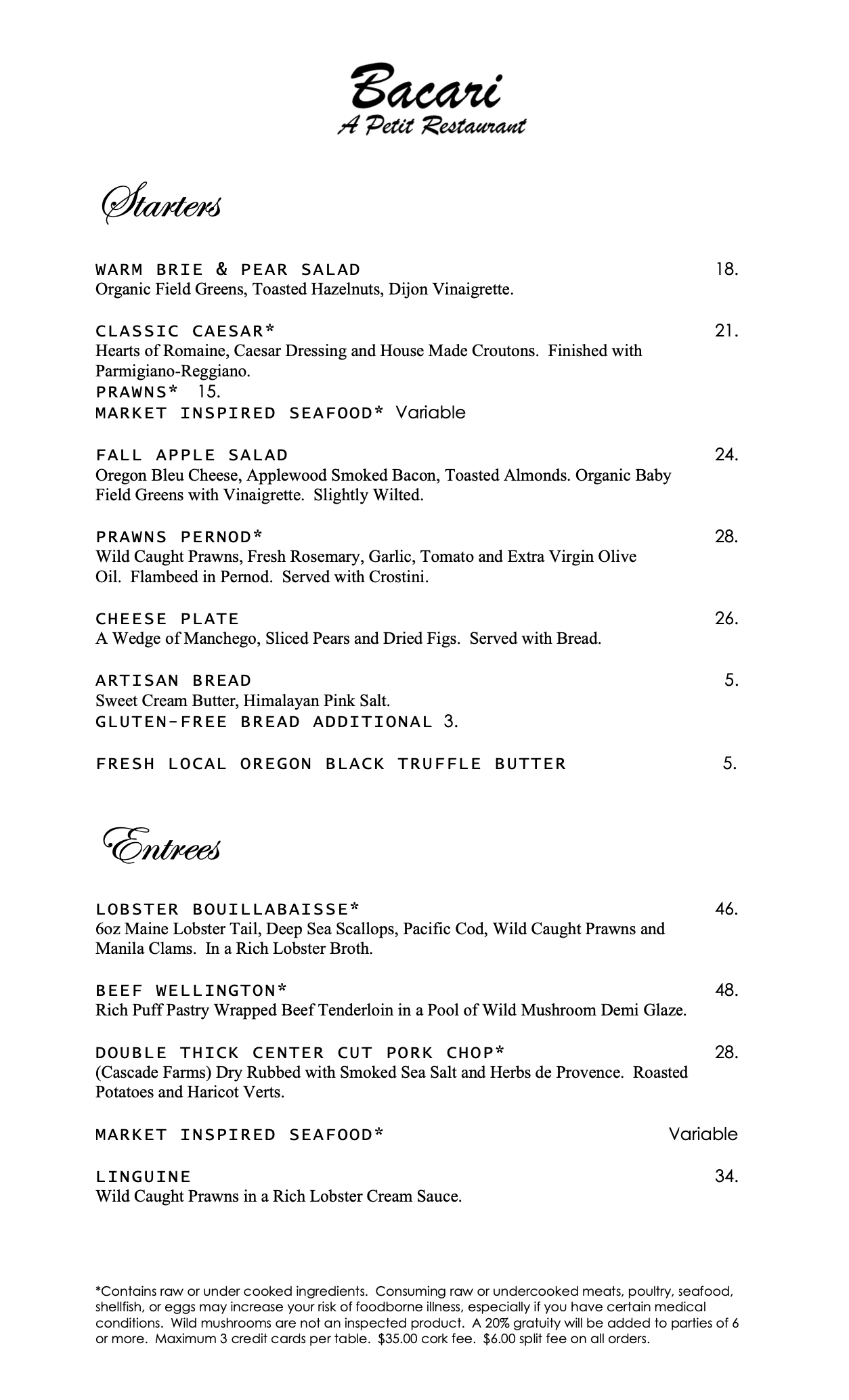 Chef/owner Lisa Radcliffe has had a passion for cooking since childhood. Growing up in the Pacific Northwest, Lisa was influenced by its bounty at a young age, fishing and preparing the trout she caught; hence, seafood is her favorite!
Lisa opened Bacari, a fine dining restaurant in Eugene, where she was the executive chef/owner for 12 years.
Bacari: A Petit Restaurant is Lisa's second venture. Its small, intimate dining area has a charming European feel.
Bacari features fresh produce and local, organic ingredients. The ever-changing menu is designed to take advantage of each peak season, with entrees including seafood, pasta, and the ever-present filet mignon.
Wines by the glass and bottle and craft beer
"Brilliant" Martinis and a Full Bar
Beautiful desserts
Outside seating
A summer Jazz Series and a fall Lobsterfest are a few of the special events
Private parties up to 25 always welcome
Reservations are recommended
Dinner entrees change weekly
Check out our Facebook page or call the restaurant for details: 503.665.2333
Open from 5 pm Wednesday through Saturday
Closed Sunday/Monday/Tuesday